After superstorm Sandy, is there really a Romney-Obama feud over FEMA?
Sandy reopened a debate over government response to disasters. But FEMA and states know their roles pretty well by now – compassion in a crisis is best directed locally, with FEMA as backup.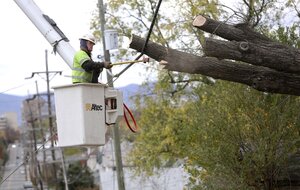 Kyle Green/The Roanoke Times/AP Photo
Sandy has been just the kind of "October surprise" that can so often jumble a presidential contest in its final days. And no wonder. The superstorm cut an 800-mile-wide swath of wind, rain, and ocean surge across a quarter of the American population.
But while the storm's effect at the ballot box remains to be seen, its timing has reopened a welcome question: What is the proper response of government and private groups in providing relief and aid in a large disaster?
The easy answer is, "It's still evolving." After decades of experience, the United States is only beginning to have a workable mix of roles for federal, state, and local governments – with a good share of responsibility left to private groups, from insurance companies to religious groups to charities like the Red Cross.
Much of the credit for this progress goes to the increasing professionalization of first responders, which allows them to work well across bureaucratic lines. The number of colleges that offer degrees in emergency management has tripled since 9/11.
So, too, do voters deserve credit for sending signals to elected leaders who fail to show enough compassion toward those hit by disaster. President George W. Bush, for example, was tarred for a slow federal response to hurricane Katrina. But many local and state leaders have also learned their political future hinges on an ability to reflect the will of voters to help those in dire need.
The mix of public-private roles is open for debate again as voters consider how President Obama and Mitt Romney, in both words and deeds, reacted to Sandy.
---