When tweets repeat a lie
Social media sites spread a lot of misinformation on superstorm Sandy. But they also helped keep people informed – and even corrected their own mistakes.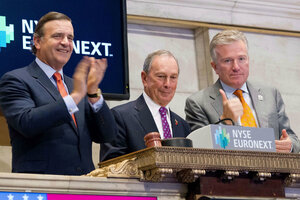 Dario Cantatore/NYSE Euronext/Handout/Reuters
"BREAKING: Confirmed flooding on NYSE. The trading floor is flooded under more than 3 feet of water."
That tweet, made during the height of superstorm Sandy earlier this week, quickly swept through the Twitterverse. CNN mentioned it. So did The Washington Post.
But it wasn't true.
IN PICTURES: Sandy: Chronicle of an unrelenting storm
Social media such as Twitter serve as a great resource for keeping in touch with friends and family in real time during emergencies. Even when power is out and TVs go dark, a smart phone maintains a link to the outside world.
Social media sites have shown they can trump traditional news sources in getting to the latest twist in an ongoing story. The "citizen journalists" who tweet about what they are seeing help the rest of us understand what's happening in an emergency or in a war zone where few journalists are allowed, such as Syria. (See "Syria's YouTube 'war' could win the war.")
But what if someone decides to tweet a lie?
---