The steady gain of humanity
Beyond alarming headlines, a deeper look reveals progress – and the prospect of even more if we address the big challenges ahead.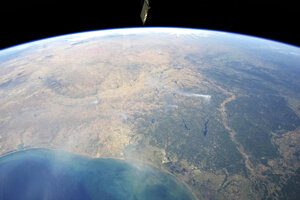 NASA Earth Observatory/Handout/Reuters
It's easy to get caught up in the news of the day: a superstorm batters the US East Coast, a rancorous US election has Americans dreading the next attack ad on TV, a heartbreaking civil war in Syria seems endless.
Yet sometimes we need to pull back, maybe try to imagine the view astronauts see from orbit, and take in the big picture.
The Millennium Project does that each year with its "State of the Future" report, some 10,000 pages of data collected and synthesized from thousands of credible sources worldwide. Of course, its 2012 report represents only one take on things, and data is always subject to various interpretations.
RELATED: Six reasons to keep America as No. 1 superpower
The report, put out by this nonprofit, a global futures research think tank, doesn't aim to dismiss or diminish the significant challenges humanity faces. But when trying to sum up the state of the world's future, it has this to say:
"It is increasingly clear that the world has the resources to address its challenges." And this: "[T]he world is getting richer, healthier, better educated, more peaceful, and better connected," and people are living longer. The trend lines overall point in a positive direction: "[T]he 10-year future for the world is getting better."
A few other highlights:
• By 2030, the middle class around the world is expected to grow by 66 percent, which is about 3 billion more new consumers with increased purchasing power and expectations. That's a potential drain on world resources but also a tremendous opportunity for economic growth.
---