Election Day: Voting is our 'civic sacrament'
Apathy keeps many Americans away from the polls. They figure their vote is meaningless among millions of others. But that's not true. Go vote.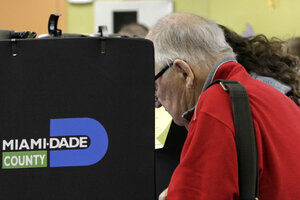 Alan Diaz/AP
Election Day is a good time to remember how far Americans have come to exercise their right to vote.
Americans no longer need to own property to vote. They can't be forced to pay a poll tax in order to cast their ballot. They can't be denied a vote because of their age (if they're 18 years or older), their gender, their race, or their ethnic background. They don't have to earn a minimum amount of money to vote. And despite who they are or where in the country they live, each person's vote counts equally: one person, one vote.
Americans didn't always have all these voting rights. Nonwhites didn't join the ranks of voters until 1870 (with additional safeguards enacted in the 1960s) and women in 1920, each after the US Constitution was amended to include them.
RELATED: Obama or Romney? How 5 undecided voters are making up their minds.
Americans have died in wars that, at least in part, were fought to ensure that they would have a right to vote.
Yet traditionally, even in a presidential election year, about 4 out of 10 Americans of voting age don't head to the polls. This year's turnout is expected to not quite match the presidential election of 2008.
Granted, 2008 was an unusual year. Neither candidate was an incumbent and one, Barack Obama, was poised to make history by becoming the country's first African-American president.
---