China's backroom politics
While US presidential candidates openly campaigned to win votes, China's new leaders were chosen in secret by a shadowy elite.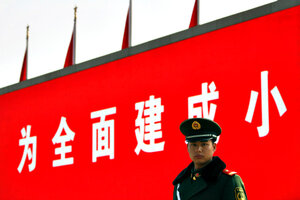 David Gray/Reuters
The streets of Beijing are being heavily patrolled this week. Citizens who have complaints to bring before the Communist Party's 18th Congress at the Great Hall of the People are being stopped and turned back.
Ordinary Chinese would like their leaders to know what they think and what problems they're facing. Like 19th-century Russian peasants, they cling to the hope that "if only the czar knew," the wrongs would be righted.
But unlike the US citizens taking part in the elections held today in the United States, Chinese citizens have few ways to signal their feelings. If genuine protests break out, they are put down. Reformers may reach an audience via the Internet for a while, but if they become too influential they are silenced. Chinese academics and analysts can speak to foreigners with some candor, as long as their opinions don't reach widely back into China.
RELATED: The 5 most urgent national security issues the next US president will face
China's communist oligarchs have delivered a great leap forward in economic terms, a boom similar in some ways to the post-World War II decades in America when the US economy dominated the world.
China's leaders have tried to juggle opening up the economy to operate as a free market without losing control of the flow of ideas. It hasn't been an easy task.
Vice President Xi Jinping is expected to become the party's new general secretary and Vice Premier Li Keqiang is expected to be named premier at the conclusion of the party congress. They represent a new generation of leaders born in the latter half of the 20th century who have experienced the benefits of the Chinese economic miracle.
---