Cyber Monday's sales success fits one Internet trend
The more Internet phenomena like Cyber Monday shake up old ways, the more governments try to control the Internet. A meeting of global communications regulators in December will test such a government role.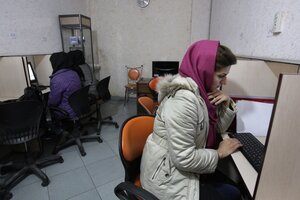 AP
More than a third of the world's population now uses the Internet. And there are enough mobile phone subscriptions for nearly every person on the planet, with many phones tied to the Web. So what other trend closely follows this growth? Almost every government wants to shape, tap, or curtail the Internet.
Take, for example, Cyber Monday. This day of shopping after America's Thanksgiving holiday is now the biggest online shopping day of the year. In fact, more than 10 percent of all US retail spending is expected to take place on the Internet during the 2012 holidays. This growth has fueled pressure on Congress to pass a bill in coming weeks allowing states to tax out-of-state online retailers.
Or take a move in Europe to slap a fee on Web content providers such as Facebook and Google. Or consider Russia's call for governments to be able to control Internet domain names. In many Muslim countries, leaders seek global restrictions on religious blasphemy. The United States wants agreements with other countries to prevent cyberattacks. And Iran has tried to cut itself off from the Internet and create its own domestic digital network.
---