A case of Obamacare and religious liberty
On Monday, the Supreme Court ordered a lower court to decide on a case involving a clash between religious liberty and Obamacare. Government must tread lightly in defining religion as a way to achieve universal health care and increase access to contraceptives.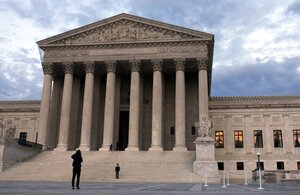 AP
On Monday, the Supreme Court signaled it might again reconsider the constitutionality of the Affordable Care Act (aka Obamacare). It ordered a lower court to weigh the law's mandate on employers to support health insurance – including coverage of contraceptive services – for workers.
Last June, the high court upheld the law's "tax" on individuals who refuse to buy health insurance. Now it wants a court to consider a complaint from Liberty University of Virginia that the mandate on employers violates religious freedom by requiring employers to have a role in funding health services such as abortion-inducing drugs.
This case is only one of more than 40 similar challenges to the law making their way through the federal courts. Any one of them could result in a Supreme Court ruling next year, potentially upsetting the law's goal of providing universal health care.
While the abortion issue drives most of the suits, the heart of the legal arguments concerns the Obama administration's attempt to define religion and to do it so narrowly as to give that definition authority over almost all employees.
The administration defines a "religious employer" as an institution focused solely on worship; that aims to inculcate values as its main purpose; that hires primarily persons of the same faith; and that serves primarily persons of the same faith. Opponents of this straitjacket definition rightly counter that even Jesus and his healing activities would not be seen as religious.
---