Why a US-EU trade pact would be historic
China's model of state-run capitalism needs a massive challenge from the two giant market economies. Obama must win a US-EU trade pact in his second term.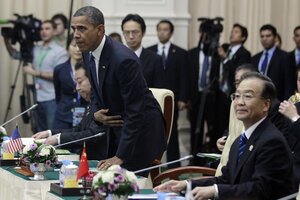 Reuters
Little is known of Barack Obama's exact priorities for 2013. Yet US presidents usually make their strongest play for a historic legacy in their second term.
For Mr. Obama, one priority should be to ensure that the world's nations adopt the ideal of openness in their economic ties.
That ideal, which the United States championed after World War II, is now being eroded as more developing nations look to China's model of state-run capitalism for growth. The Chinese model relies heavily on protecting industries; government-guided banking; and manipulating markets, currency rates, and data.
If every nation practiced such economic nationalism, trade in goods, services, and ideas would grind to a near-halt. More broadly, the model undercuts a global desire for accountability and transparency, the very qualities needed for democracy.
During his first term, Obama achieved little to expand world trade other than to have Congress approve two Bush-era bilateral trade pacts (South Korea and Colombia). In the meantime, big developing countries were further drawn to the China model.
Still, some actions by the Obama administration hint that it may be ready to exert strong leadership on trade openness.
---