Putin's drive for Russian identity
In a big speech Wednesday, President Vladimir Putin said Russians lack 'spiritual braces.' He joins other world leaders who recently made similar warnings about their people. Should governments, especially those with weak democratic credentials, be promoting moral values?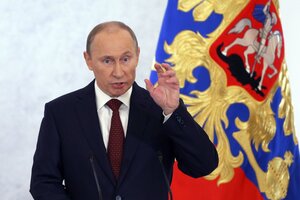 AP
Now it is Vladimir Putin's turn. In a major speech Wednesday after retaking the presidency last May, the Russian leader joined a chorus of world leaders who are speaking openly of their country's moral and spiritual lives.
"It pains me to speak of this ... but Russian society today lacks spiritual braces – kindness, sympathy, compassion toward one another, support and mutual assistance, a deficit of that which has always, throughout history, made us stronger," he said in an address to lawmakers in Moscow.
His words echo those of China's premier, Wen Jiabao, who recently warned that "the fostering of the moral culture is lagging." His comments were reflected in a recent Communist Party pledge to "enrich the people's spiritual lives."
South Korean President Lee Myung-bak proclaimed last year that "the entire nation is rotten," while in India this week, President Pranab Mukherjee said that the country needs to strive for spiritual development "to regain lost values and traditions in this age." And last December, British Prime Minister David Cameron declared that "we've got to stand up for our values if we are to confront the slow-motion moral collapse that has taken place in parts of our country these past few generations."
Secular leaders usually tread warily into the moral realm. Many do so simply to shore up their popularity or unify the nation rather than to act as spiritual counselor to the wayward masses. It is with that skepticism that many in Russia viewed Mr. Putin's speech.
---