Newtown shootings: What to say to ourselves
The Newtown shooting of 20 children and 7 adults may be the strongest reminder that each individual must find ways to help end these kinds of mass slaughter.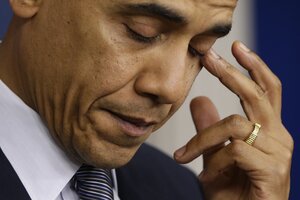 AP
The mass shooting of children, teachers, the principal, and others at the Sandy Hook Elementary School in Newtown, Conn., has evoked strong emotions in Americans – a mix of anger, fear, and hopelessness. President Obama wiped away tears at a press conference as he expressed his own grief over the tragedy.
But one of the most common reactions may be this: How can we end this type of gun slaughter?
Mr. Obama alluded to this response in his remark: "We're going to have to come together and take meaningful action to prevent more tragedies like this, regardless of the politics."
Part of the answer lies in better security in institutions like schools, better detection of potential shooters, and a tightening of laws on gun ownership. Each person can take responsibility for ensuring more reliable protection of the innocent.
But beyond taking public action, the ultimate solution lies in each individual understanding that these shooters act out of the same anger, fear, and hopelessness that their violence evokes in us.
We cannot afford – as individuals or as a society – to keep mirroring their motivating angst.
---