What Kerry, Hagel would bring to Obama diplomacy
Reports of Sen. John Kerry becoming Secretary of State, and Republican Chuck Hagel being tapped for Defense, hint at a new attempt to use 'soft power' in Obama's second term. But will it work?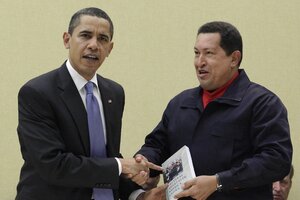 AP
As President Obama heads into a second term, he is only beginning to hint at how he might change his leadership style in world affairs. The first big clues will be his choices for secretaries of State and Defense.
News reports say Sen. John Kerry (D) will be tapped for State while former Nebraska Sen. Chuck Hagel, a moderate Republican, may be headed for the Pentagon. If so, this would suggest a return to Mr. Obama's attempts early in his first presidency to engage America's adversaries abroad rather than isolate or harm them.
Mr. Hagel has been a strong critic of economic sanctions in general and has favored talks with the Palestinian militant group Hamas. Senator Kerry was active in talking directly to Syrian dictator Bashar al-Assad. Their faith in quiet diplomacy rather than threats reflects Obama's attempts soon after he took office to extend a hand to Iran, Venezuela, and North Korea.
---