Christmas in Newtown: restoring childlike innocence
A big Christmas tree in Newtown, Conn., has become a memorial site for the Sandy Hook children killed at their elementary school. Many faiths use a Christmas-like embrace of an innocent child to help them in troubled times and restore the promise of purity.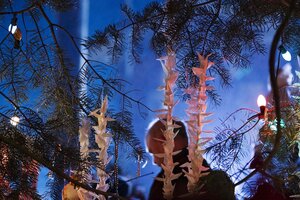 Reuters
How fitting. How timely. An enormous Christmas tree in Newtown, Conn., has become the focal point for people who are leaving stuffed animals, candles, and messages of affection in a memorial to the 20 children killed in Sandy Hook elementary school last Friday.
Christmas, like observances common to many religions, is a time to embrace and remember a child who brought the promise of innocence and purity to all. Judaism has its story of a baby Moses saved for greatness and a young Joseph rescued from the pit. Hindus look to tales of baby Krishna while Buddhists see the promise of innocence in an infant Buddha.
Such is humanity's strong desire for childlike purity that even the communist leaders of the Soviet Union required children to wear badges with images of "baby Lenin" and to learn myths about his youth. (It was a crafty way to supplant a popular faith in baby Jesus.)
So, too, in fiction are babies often used to depict a new dawn. A contemporary example is the animated movie "The Lion King." The cub Simba is held up by his father at sunrise to herald the promise of a bright future.
This heartfelt desire for innocence helps explain the intense reaction to what happened in Sandy Hook – the public drive for more gun laws, better mental-health care, safer schools, and a host of other ways to prevent another loss of the most innocent in society. These efforts are worthy of strong support. But they can only be sustained if we recall, months and years from now, what their purpose really is.
---