Take steroids out of college football
An in-depth investigation shows that despite avowals to the contrary, college football programs are rife with the use of illegal steroids. A tougher stand is needed.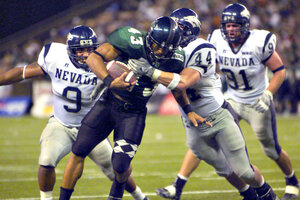 George F. Lee/ Honolulu Star-Advertiser/AP/File
Texas A&M versus Oklahoma should be a highly entertaining college bowl matchup, featuring A&M's Johnny Manziel, the first freshman to win the Heisman Trophy that symbolizes college football's top player.
And that bowl game, one of a plethora, is just the warm-up act to the national championship game itself, to be played in early January between Notre Dame and Alabama, two of the winningest college football programs in history.
But at what price will Americans be getting their annual dose of post-holiday football entertainment?
An investigative report released last week by The Associated Press shows that steroid use is almost certainly highly prevalent among the nation's college football players who compete in the top-level leagues. Despite statements from college programs that they both endorse and enforce a ban on the use of steroids, patterns of dramatic growth in the size of players – and particularly their muscle mass – from the time they enter a college football program until they leave provide compelling evidence that steroids are being widely used.
While young men do continue to grow during their college years, and nutrition and weight-training can enhance growth, the AP report notes that many weight gains were so dramatic that without steroids, the odds of them happening "were roughly the same as an NFL quarterback throwing 12 passing touchdowns or an NFL running back rushing for 600 yards in one game." In other words, nearly zero.
Professional sports such as baseball and cycling have endured their own drug scandals. The chief issue there has been fairness: Athletes who play by the rules, and don't use banned substances, have had to compete against those gaining an unfair advantage by cheating.
---