Egypt's big lesson in democracy
Egypt adopted a postrevolutionary constitution this week. But the Arab nation has only begun to understand that democracy isn't only majority rule.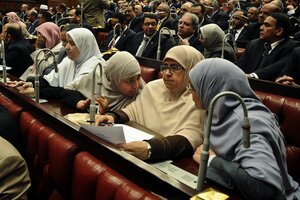 AP Photo
As many married couples learn the hard way, the greater good can be found simply by listening to each other. That lesson in selflessness is also true for democracies, such as the fledgling one in Egypt, a nation now pivotal to the success of the Arab Spring.
On Tuesday, Egyptians officially began life under a mostly democratic constitution, nearly two years after the Tahrir Square revolution. But this remarkable feat for the Middle East was hardly a model in how opposing sides in a democracy should listen to each other. In fact, the US State Department issued a stern warning to President Mohamed Morsi about "the urgent need to bridge divisions, build trust, and broaden support for the political process."
Many of the steps on the way to the Constitution – whose bright spot includes regular elections – ignored the interests of Egypt's various minorities, from liberal secularists to Coptic Christians. The dominant Muslim Brotherhood, whose party has won three national votes, fell for the notion that the majority should always get what it wants – a mistake that has been the undoing of many democracies.
---