Who forced a 'fiscal cliff' deal? Try foreign investors.
Washington is now all too aware that foreign creditors and investors will punish it for any macroeconomic mismanagement. American competitiveness was at stake in the fiscal cliff negotiations.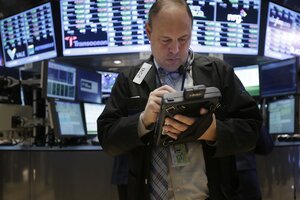 AP Photo
Take a guess. Which of these put more pressure on US lawmakers to strike a deal and avoid the "fiscal cliff" – voters or global financial markets?
If you picked markets, you may be right.
On the day after the last-minute agreement, an uptick in global stock prices seemed far more welcome in Washington than the reaction of voters. The reason is that foreign creditors to the US Treasury had been near a tipping point in wanting their money back, possibly forcing a crisis for US debt.
Investors worldwide now demand the US government display more stability and trust. Globalization has given them a big say in the policy logjams of many countries, and the United States is not immune. Its lingering disputes over issues like taxes and spending have become a prime indicator of its ability to remain innovative, reliable, and productive.
Elections do have consequences, for sure. But today so does a country's economic competitiveness, measured in part by its level of dependability, openness, and flexibility in governance. On those sorts of attributes, the US needs work. Consider these latest rankings:
On a global index of innovation, the US has dropped from No. 1 in 2007 to 10th. On economic competitiveness, it has dropped to seventh in the last few years. And compared with other countries, the trust by Americans in their government ranks 54th.
The greatest weakness of the US is seen in its lack of macroeconomic stability. On that measure it fell last year from 90th to 111th.
---