Taking choice out of personal health
As more governments move to restrict personal choices as a way to cut costs, especially in health care, they can easily impinge on both liberty and alternative ideas about health.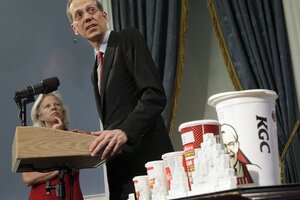 AP Photo
A local government in Britain proposed this week to withhold welfare payments and other benefits to obese people if they fail to exercise. It is the latest example of a government trying to save money by impinging on personal choices.
The British plan would rely on smart cards to track whether welfare recipients are using official health facilities, such as swimming pools and gyms. Benefits would be docked accordingly in hopes of reducing medical costs associated with obesity.
The idea is in the same league as New York City's coming ban on the sale of sugary soft drinks larger than 16 ounces at restaurants, theaters, and food carts. The ban, which starts in March, aims to reduce the city's high medical costs.
A related example is the recent consideration by dozens of states to require adult recipients of government benefits to pass a drug test – even with no evidence of such abuse. While only four states have approved a version of this idea – and courts are wary about endorsing the "unreasonable search" of a person's body – states still see big savings in denying tax money to those who might use it to purchase drugs and harm themselves. (Many studies show the savings to states are elusive.) States should and often do deny benefits to those welfare recipients convicted of drug use.
The British plan to penalize the nonexercising obese is the type of drift toward "hard paternalism" that worries many people about the health-prevention aspects of America's new Affordable Care Act (aka Obamacare). When government holds the power to withhold a key benefit, it may be tempted to use that power to nudge people toward certain lifestyle choices in order to save money.
---