In India rape protests, another public outbreak of moral conscience
Protests in India over a woman's rape and later death fit a new pattern of spontaneous, Internet-driven moral shock over a galling incident. From Tunisia to Russia to India, better-connected and urban people can more easily band together when their conscience is struck.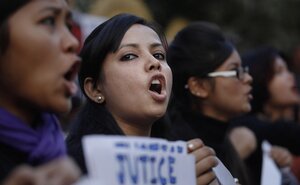 AP Photo
First Tunisia, then Russia, and now India. The pattern is becoming familiar: A single event so shocks the moral conscience of a nation's people that they connect spontaneously through social networking to protest in the streets for weeks, even months.
For tens of thousands of Indians, it was the Dec. 19 rape and later death of a female university student that drove them to challenge their government through peaceful protests.
For many young, urban Russians, it was the fraudulent election of Dec. 4, 2011.
And by now, the world knows of the Tunisian vegetable seller who ignited the pro-democracy Arab Spring by immolating himself Dec. 17, 2010, after being humiliated by a dictator's police.
These are not the usual protests in which organized groups, such as today's unemployed Greeks, are led by political leaders to demand something for their own benefit. Rather, these recent demonstrations are what Tunisian scholar Mustapha Tlili calls a new "moral community" – or a moment when people unite quickly via the Internet in response to a galling incident that crystallizes a greater cause, such as a popular demand for dignity, equality, or honesty in the way a society is run.
Two successes of these conscience-led protests are the young democracies in Egypt and Tunisia. Russia's protests, however, largely ended, with only minor efforts now to form a political force. Meanwhile, the protests in Syria have descended into armed conflict with an estimated 60,000 casualties – a toll that itself is worthy of pricking the world's conscience.
---