China censorship protest as 'living in truth'
Protests erupt following a strike by journalists at a Chinese newspaper whose editorial on free speech was censored. Unlike most other protests in China, this one is about living in the truth.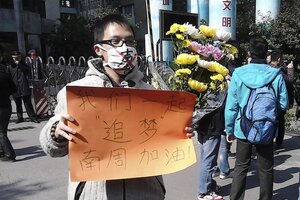 Wu Wei/AP Photo
An extraordinary protest took place Monday in China's southern city of Guangzhou. Unlike the almost-daily local protests across China – which are mainly over land grabs, corruption, workplace abuses, and pollution – this one was simply about telling the truth.
Large crowds of people took to the streets in Guangdong Province to support journalists working at an investigative newspaper, Southern Weekly. The journalists themselves had gone on strike last week after a local Communist Party propaganda chief censored their New Year's editorial – without telling them.
The editorial itself was bold enough, asking that the government live up to the clear liberties promised in China's Constitution. It read: "Only if constitutionalism is realized and power effectively checked can citizens voice their criticisms of power loudly and confidently, and only then can every person believe in their hearts that they are free to live their own lives."
But the strike by the editors and the street demonstrations that followed are just the kind of action that the famed anticommunist dissident Václav Havel of the former Czechoslovakia once called "living in truth." They gave concrete existence to freedom.
In his 1978 work "The Power of the Powerless," Mr. Havel wrote: "If the main pillar of the [totalitarian] system is living a lie, then it is not surprising that the fundamental threat to it is living the truth. This is why it must be suppressed more severely than anything else."
---