How to debate Obama's gun proposals
This week, President Obama gives his post-Newtown proposals on gun regulations. But first, Washington must adjust the way it debates guns.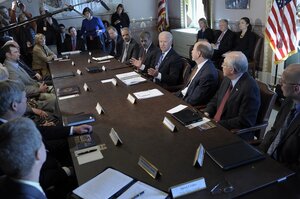 AP Photo
This week, President Obama will propose new policies on guns. They come after only one month of intense debate among Americans over how to prevent another massacre of children like that at Sandy Hook Elementary School in Newtown, Conn.
In such an emotional climate, will Mr. Obama's proposals pass Congress in any form?
Not unless the emotions of this debate are first addressed.
Facts and reason ought to prevail in a national dialogue about curbing gun violence. It can be known, for example, if background checks of gun buyers do work. The gun lobby's proposal for armed guards at schools can be evaluated by looking at the record of schools that already have guards. And legal scholars can perhaps find a consensus on whether the Supreme Court's ruling on the Second Amendment gives legal leeway for more gun regulation.
But facts and reason can't always break through the emotions that run through the gun debate. And the most common emotion is fear.
Those who want weapons for their own safety or against a tyrannical government often have the same intensity of fear as those who see guns as causing more harm than good. The fear itself is common to both. Yet the reasons for it are not. Thus reason itself may not prevail.
The renewed strength of sentiments over guns has only pushed Americans into more hardened opposing camps – almost tribal-like – with little listening and a lot of claims of being right.
---