What Obama's gun proposals left out
President Obama's actions and proposals on gun violence are worthy, especially his directive on research into media violence. But he failed to link gun violence to children of broken or single-parent homes.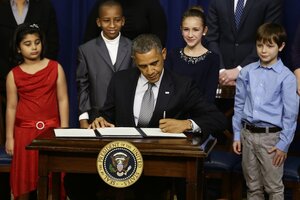 AP Photo
President Obama took 23 executive actions on Wednesday to curb firearm-related deaths. That and his proposals to Congress for new gun laws are a necessary response to the shooting at Sandy Hook Elementary School in Newtown, Conn.
Perhaps his most important action is a directive for new research "on the causes and prevention of gun violence." More restrictions on firearms may keep guns away from killers, but a better understanding of the roots of violent behavior – and then addressing them – would be far more effective. Most gun crimes are not done by people with mental illness but by sane people who are prone to violence.
Unfortunately, the White House seemed to focus the new research only on the relationship between violence and the kind of video games and other media images that may influence a killer. While such data would be helpful, kids who imitate fictional violence often do so because they lack a supportive family.
Mr. Obama has often noted the need to promote marriage and family – his own family certainly serves as a model. But he must also back research that looks at links between violence and children born out of wedlock or raised by single parents.
One recent study by the Brookings Center on Children and Families, for example, found that children whose births resulted from unintended pregnancy are more likely to "engage in delinquent and criminal behavior later in life." Author and noted psychologist Andrew Solomon finds that the first risk factor in the making of a criminal is being raised by a single parent.
---