The listening legacy of Hillary Rodham Clinton
The legacy of Hillary Rodham Clinton as secretary of State may be in her enhancement of the diplomatic art of listening to other peoples – especially women – and not only world leaders. With President Obama honoring her in a "60 Minutes" interview, that legacy needs to be sustained.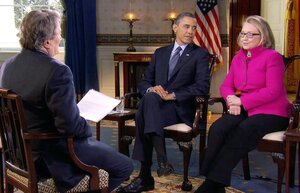 CBS/AP
The greatest challenge of our time, said Madeleine Albright last week to a group of Massachusetts students, "is between the people who are willing to listen and those who believe they know it all."
As the first female United States secretary of State (1997 to 2001), Ms. Albright set a precedent for the United States in the art of listening more and asserting its interests less in foreign affairs. She was a model for two women who later ran the State Department, Condoleezza Rice and Hillary Rodham Clinton.
As Secretary Clinton now leaves office after four years as America's top diplomat, she, too, is telling others – such as in a "60 Minutes" interview with President Obama – that diplomatic style matters as much as substance for the world's most powerful country.
Take, for example, her advice to US lawmakers last week on how the US should act in North Africa to repel Al Qaeda-linked Islamic militants: "We have to approach it with humility."
The US military alone can't stabilize a terrorist-torn nation like Mali, the center of current fighting in North Africa. The Pentagon's previous training of Mali's Army only led to a coup against an elected leader, sparking the kind of chaos on which Islamists thrive. Instead, as Clinton advised, the US must learn from the examples of Somalia and Colombia, where the US helped deploy a balance of its assets – diplomacy, development, and defense, or the "3 D's" – to quell insurgencies in those countries.
---