Higher ed and lower jobs: What's needed in the new economy
More jobs rely on intangible qualities rather than measurable goods, knowledge, or skills. Countries and colleges, too, must look to the invisible assets of social, intellectual, and organizational 'capital."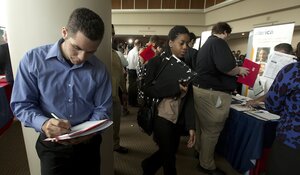 AP Photo
It almost sounds like a Woody Allen joke. Most Americans say postsecondary education is just too expensive, according to a new Gallup poll. Yet more than 1 in 4 say the quality of higher education has become worse.
Here's another incongruous "joke": The US economy added only 4,000 manufacturing jobs last month. And yet manufacturing activity is rising at its highest rate in almost a year.
Not laughing yet? Try this one. The US has a record number of people with bachelor's degrees. And yet more than a third of those who graduated from college in 2010 now hold jobs that require no more than a high school diploma. More than half of them are underemployed – and that's three years after the end of the Great Recession.
Economists are scratching their heads over how to help people navigate education choices, a job market, and an economy that don't fit many old patterns. One big problem is that economists like to measure things, and yet much of what is driving business in advanced countries is not easily measurable.
Growth is being driven in large part by "intangible capital." This includes the quality of trust in business relationships, the level of freedom for people to innovate, and the ability of managers to best organize employees to utilize new technologies. Tangible capital, such as factories, highways, and energy supplies, still matter. But these have declined in importance, according to the World Bank, whose economists attempt to measure such assets. Invisible capital – often called human, organizational, or intellectual capital – now dominates the modern economy, whether it is in service-oriented businesses or high-tech manufacturing.
---