In Timbuktu, Al Qaeda showed 'seeds of its decay'
A secret letter written by Al Qaeda's leader in north Africa during his 10-month rule of Timbuktu reveals the internal contradictions of jihadists that will end their appeal.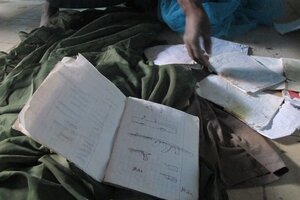 Rukmini Callimach/AP Photo
The late American diplomat George Kennan predicted in 1946 that Russia's communist empire was built on so many contradictions and false concepts that it had within it "the seeds of its own decay." The West needed to be patient and mainly contain the Soviet Union. He turned out to be right.
Would a similar prediction hold true today for Al Qaeda if the radical Sunni group were able to rule over a Muslim people with its harsh vision of an Islamic theocracy?
The answer may be found in secret documents discovered last month in the Malian city of Timbuktu, where Al Qaeda was able to rule with its own governing institutions for 10 months until ousted by French troops.
The papers, discovered by The Associated Press, are part of a "confidential letter" written by Abdelmalek Droukdel, the head of Al Qaeda in northern Africa. He left parts of the letter as he fled the city. In it, he warns subordinates that they have been too quick and brutal in imposing sharia, or Islamic law. He worries that local Muslims will reject the religion and come to hate the jihadists, which would "consequently lead to the failure of our experiment," which includes establishing a global base for Al Qaeda.
---