Is Oscar Pistorius really Africa's 'biggest' story?
Last week, when the West and UN were intervening in a host of problems in Africa, much of the world focused on Oscar Pistorius, the Olympic hero charged with murdering his girlfriend, model Reeva Steenkamp. Africa needs a better media spotlight.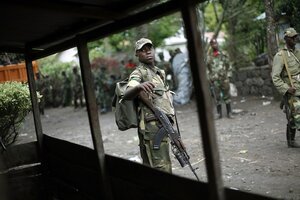 AP Photo/file
For much of last week, the most popular news out of Africa was about a white man, former Olympic athlete Oscar Pistorius, being in court for the killing of his girlfriend, model Reeva Steenkamp, in South Africa.
Meanwhile, the world media paid much less attention to the United Nations mediating a peace agreement for the Congo conflict, the exodus of 60,000 refugees from a conflict in the Central African Republic, the United States setting up a Predator drone base on the continent, French troops chasing Al Qaeda in Mali, or Egypt's economy on the verge of collapse as it appeals for foreign loans.
Oh, and then there is the news about the International Criminal Court seeking to put on trial the possible winner of Kenya's March 4 presidential election, Uhuru Kenyatta. He is wanted for crimes against humanity.
---