Yahoo's ban on working remotely: a creative step for innovation?
Yahoo CEO Marissa Mayer (formerly of Google) has banned remote working for her employees, hoping to find innovation in office interactions. She's the latest example of executives trying to find the source of good ideas.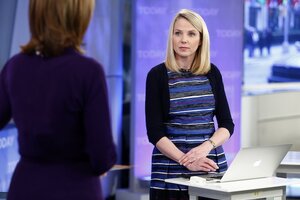 AP Photo/NBC Peter Kramer
If humanity's progress relies on a constant discovery of new ideas, then count Marissa Mayer as one of its daring pioneers.
The chief executive officer of Yahoo (who jumped from Google) has just ordered employees at her struggling Internet company to stop working remotely and resume daily face time at the office. It's seen as an innovative step, one designed to boost innovation at Yahoo.
Her move has stirred criticism, however, for reducing the flexibility of Yahoo workers (mainly mothers and fathers) to mix personal and professional time. Nonetheless, the bigger issue is whether Ms. Mayer's search for the newest way to instill innovation in an organization will be the last word on the perpetual quest to find the source of good ideas.
The need of companies to create the jobs of the future relies more on getting innovation right than on telecommuting or flextime. Experts on innovation still can't agree on what stirs the creative juices. Yet in the global economy, companies rise or fall more quickly than ever based on their ability to generate new services and products.
Critics of Mayer say companies that allow remote working will attract the creative types. Others, however, point to studies that show workers are less innovative if they work at home, although they are usually more productive. Interacting with others in an office or a lab setting, it seems, pushes people to think more creatively.
At least, that's the current trend. The Yahoo memo to employees, written by Jackie Reses, director of human resources, claims: "Some of the best decisions and insights come from hallway and cafeteria discussions, meeting new people and impromptu team meetings. Speed and quality are often sacrificed when we work from home."
---