Why Chávez-style governance runs against history
The end of Hugo Chávez's rule in Venezuela should help weaken the model of authoritarian populism. His social goals may be worthy but his methods of personal rule were not.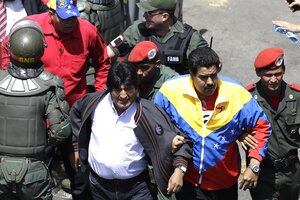 AP Photo
The end of Hugo Chávez's rule in Venezuela marks an important milestone in history's long road toward more democracy. The world now has one less leader who puts personal rule ahead of the rule of law.
Whatever the worth of Mr. Chávez's ideas – uplifting the poor, breaking an entrenched elite – they were damaged by an authoritarian populism, or a belief that one person can so embody the aspirations of the masses that normal democracy, individual rights, and judicial oversight must bend to his power.
During 14 years in office, Chávez made mistakes similar to those of other self-styled revolutionaries, both on the left and right, such as Argentina's Juan Perón and Serbia's Slobodan Milosevic. He rigged the electoral process and used social divisions as a political tactic. He tapped into resentment of the rich and relied on patronage and subsidies to extend his grip. Like Huey Long, the populist governor of Louisiana in the 1930s, he declared "every man a king!" but made sure he alone remained king.
Chávez came to power at the end of a century whose most significant achievement was the spread of democracy and freedom. The second biggest achievement was more social and economic equality. Like many rulers, he rushed for the second goal at the expense of the more-important first.
---