Why honey works better than vinegar in Washington
If tone can influence substance, as studies show, then the new friendly, face-to-face get-togethers between President Obama and GOP lawmakers signal possible breakthroughs.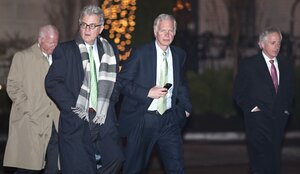 AP Photo
A friendly tone has suddenly descended on Washington. This past Wednesday, President Obama hosted a dozen Republican senators for a dinner that was later described as "jovial." Then he lunched with the GOP's budget hawk, Rep. Paul Ryan of Wisconsin. In coming days, Mr. Obama plans to go to Capitol Hill for more informal conversations with Republicans.
Such old-style civility has been scarce along Pennsylvania Ave. Sound-bite barbs – often personal – have become the norm. Last year, most voters found the election a "frustrating experience," according to a Pew poll. More than two-thirds saw an increase in "negative campaigning and mudslinging" rather than a discussion of issues.
"It's going to take a while to build the kind of confidence and trust that's needed," Sen. Tom Coburn (R) of Oklahoma said on MSNBC after the dinner with Obama. "If you've had years of having somebody put their finger in your eye and question your motivations and ascribe to you things that aren't accurate, that takes some healing."
Tone matters as much as substance in almost any relationship – politics, business, or marriage – and for good reason. Tone can alter substance, a truism that elected leaders often forget. Two recent studies help make the case.
---