Illinois and Greece as penitent cookers of books
The SEC exposes Illinois's misleading reports on pensions while Greece cleans up its financial data to help end the euro crisis. Clean accounting, like light on a dark street, helps eliminate financial deceit.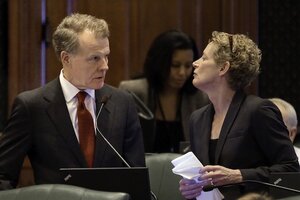 AP Photo
Streetlamps are an efficient policeman, said famed jurist Louis Brandeis. The same can be said of honest accountants. When they shine a light on shady statistics, it encouages the practice of financial integrity.
Take, for example, news on Monday that Illinois has agreed to a cease-and-desist order imposed by the Securities and Exchange Commission (SEC). The federal agency accused the state of misleading investors from 2005 to 2009 about the risky conditions of its underfunded pensions for state workers. Illinois's estimated $96.7 billion in pension liabilities is among the largest of any state.
The SEC's charges found Illinois failed to reveal that it had abandoned a five-year plan to fund its pension systems. In effect, investors paid too much for the state's bonds.
Illinois will not be punished for fraud, however, as it has already begun to clean up its financial books and accounting methods. "It is critical that we learn from the state's mistakes and never again play games with our pension systems," said Illinois State Comptroller Judy Baar Topinka.
Illinois didn't really have to wait for the SEC crackdown as it saw in 2010 how the agency nailed New Jersey for misrepresenting its financial health. New Jersey was accused of creating the accounting illusion that it had a special reserve for its pensions. And since then it, too, has moved toward honesty in its disclosures.
Such revelations of wrong-doing have been easier to spot since the world financial crisis of 2008-09. A receding tide exposes many shipwrecks. The most notable and perhaps most damaging exposure was that of fraud by the Greek government.
---