Recalculating the privacy debate after Google Maps penalty
Google's string of privacy invasions reveals a need to rethink privacy and end a piecemeal, reactive approach. Asserting privacy as an asset would help.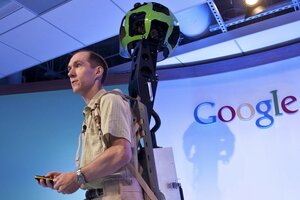 Reuters
Google has once again earned an official censure for breaching a boundary on privacy. On Tuesday, it agreed to pay $7 million to 38 states for collecting Wi-Fi data, such as passwords and browser history, while its vehicles took ground-level images for Google Maps.
The punishment follows a $22.5 million fine last year after Google bypassed privacy settings on the Safari browser as well as a 2011 settlement for violating its own privacy rules on its Buzz social media.
By now, consumers and citizens may have detected a pattern: New technologies allow new types of privacy invasions, which then lead to ad hoc remedies – until the next type of intrusion.
This pattern goes back to the 1880s, when many states passed laws to prevent the disclosure of telegram messages. In 1903, New York was the first state to allow people to sue for invasion of privacy. The latest frontier is setting limits on the use of video cameras in public places.
As the string of Google violations shows – along with dozens of new privacy laws passed since the 1970s – the pace of this cat-and-mouse privacy quest has quickened in the Digital Age. Even a mighty Internet company like Google, whose informal motto is "do no evil," can falter when it creates new technologies with new uses without always knowing exactly what privacy guardrails society expects.
The basic need is to better define the purposes of privacy rather than simply react to the fear of losing it. If tech users, companies, and government had a broad consensus on the benefits of privacy, then it would be easier to design comprehensive and consistent policy. Lawmakers and law enforcers would not always be playing catch-up with the latest "violation," and coming up with a patchwork of solutions.
Google could even adopt an affirmative motto, such as "do good."
---