Are gun politics too complex? Simplicity would help.
As the Newtown families plead for Congress to act, lawmakers – and President Obama – admit to the complexity of gun issues. Scholars on simplicity offer some ideas.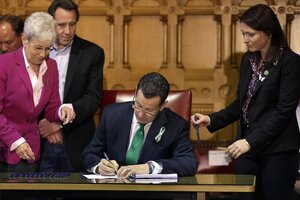 AP Photo
Four long months have nearly passed since the Sandy Hook Elementary School shooting. And yet Congress has yet to approve any new gun legislation – despite the personal pleas for action by the families of victims in Newtown, Conn.
Why the delay?
One reason is that Americans remain intensely divided over many of the gun issues. Lawmakers are locked into blocs of competing views among voters, creating a stalemate in forging a compromise. Even when polls show a majority favoring a particular solution, that doesn't sway key lawmakers.
But another, rarely mentioned reason is that the issues surrounding guns are complex. Gun legislation remains complicated because the causes for gun violence are varied. And other issues are complex: Who can tell if a person is dangerous? What is the role of violent video games? What is an assault weapon?
As President Obama stated after the Newtown shooting: "We know this is a complex issue that stirs deeply held passions and political divides." And Rep. Mike Thompson, chairman of the House Gun Violence Prevention Task Force, admits to the difficulty in crafting solutions. The California Democrat says that he has worked "with virtually everyone imaginable" on reducing gun violence while respecting the Second Amendment. And yet he found one thing to be clear about gun regulation: "It is a very complex issue, and in order to make any meaningful progress, it's gonna take a complex and very comprehensive solution. You push one place, it takes you somewhere else."
---