A path to peace in land, resource disputes
A Taiwan-Japan agreement on fisheries near the Senkaku islands sets a model for China in avoiding dangerous moves on island claims.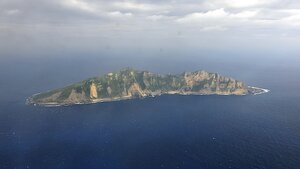 Xinhua/AP Photo
When nations clash over land and resources, peace can often come like a cat moving in small, quiet steps. A good example is an agreement announced Wednesday between Taiwan and Japan.
The pact allows the two Asian democracies to share the fisheries around a group of islands claimed by both countries but administered for decades by Japan. Known as the Senkaku in Japanese and the Diaoyu in Chinese, the islands have become a dangerous flash point between Beijing and Tokyo, driven by China's strategy to dominate the sea lanes of East Asia.
Unlike nondemocratic China, however, both Taiwan and Japan recognize the wisdom of sidestepping sensitive sovereignty claims and instead seek joint use of natural resources. China's use of force to stake its island claims has had the effect of forging alliances among its neighbors.
The pacifist approach by Taipei and Tokyo is a pragmatic way to avoid war, create prosperity, and build up enough trust to settle a dispute later. This kind of shared economic activity is done, of course, "without prejudice to the final delimitation," as lawyers like to say.
---