Looking for Obama's agenda in Syria
As killings in Syria worsen, more people look to Obama for action. But the mental preparation for action doesn't start with the White House.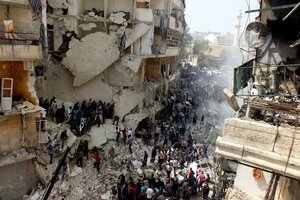 Aleppo Media Center AMC/AP
Many more people around the world are eyeing President Obama for clues as to whether he will take military action in Syria. Their reasons may be sound. March was the deadliest month in the civil war, with more than 6,000 dead. A fifth of Syrians have fled their homes, destabilizing the Middle East.
Overall, the number of killings is now more than 70,000, or about the same as all gun homicides in America over seven years. To many, such mounting numbers demand firm intervention.
Yet those scrutinizing Mr. Obama have it all wrong. Much to his credit, the president is eyeing them back. He keeps probing Congress, foreign allies, and the American people on whether they are mentally ready to take action against the ruthless, entrenched regime of Bashar al-Assad.
This isn't "leading from behind." Obama has seen too many wars go wrong in his lifetime without the groundwork of mental preparation. To counter massive evil acts, such as the current war crimes against civilians in Syria, far more people than the president must understand what good they would bring to a situation. Motives must be clear in order to rally the means to achieve them.
---