What the immigration reform bill still needs
The eight senators who crafted an immigration reform bill deserve praise for finding a bipartisan compromise. But the bill needs a theme other than economics and security to help place immigration's role in defining the nation's identity.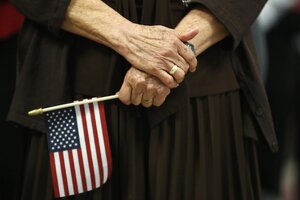 Reuters
Just as people often define themselves by the company they keep, a nation creates an identity by the immigrants it lets in. For that reason alone, it is instructive to look over the 844-page bill on immigration reform released Tuesday by a "gang" of eight senators.
The bipartisan bill, which the Senate will debate in coming weeks, seems more like tactical truces between the two parties than a vision on how to define American society through its immigrant flows. It contains difficult compromises designed to split political differences, all in hopes of pleasing – or at least not offending – the various constituencies of Democratic and Republican lawmakers.
The bill's title – the "Border Security, Economic Opportunity, and Immigration Modernization Act" – illustrates a general lack of grand ideals. Yes, better security and individual prosperity do matter. Yes, the United States needs both low- and high-skilled workers from abroad. And surely, the mass lawbreaking of undocumented workers needs a rectifying and humane resolution.
But shouldn't a major move to legalize 11 million immigrants and open the doors to millions more at least offer a transcending mission that unifies the nation around its civic character?
At best, the document calls for a "just system for integrating those who seek to join American society." But join for what?
In a 2011 speech, President Obama warned of the need to lift the immigration debate to a higher narrative:
---