The right way to put more women in boardrooms
Japan and Germany each announced goals last week to put more women in top company slots. Yet their approaches differ. And new research indicates gender qualities can't be stereotyped according to sexual differences. This suggests official bias based on sex could be misplaced.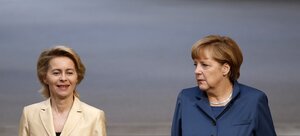 Reuters
The top leaders in two of the world's largest economies – Japan and Germany – made a surprising turnaround last week. They each promised to push major companies toward putting more women in top corporate positions.
For tens of millions of working women, would this mean a shattering of the professed "glass ceiling"?
The answer depends very much on the different approaches in each country toward achieving gender equality in business.
In Germany, Chancellor Angela Merkel bowed to political pressure Thursday and agreed that her ruling center-right party, the Christian Democratic Union, will call for a legally binding quota of 30 percent women in boardrooms starting in 2020.
Endorsing such a mandate was quite a reversal for the world's most powerful woman, who has long opposed gender quotas.
"One learns," Ms. Merkel told a German newspaper last week, that "not all women think alike."
In Japan, Prime Minister Shinzo Abe announced Friday that his ruling Liberal Democratic Party would simply ask top businesses to set a target of at least one woman executive per company. His approach would be social change by moral persuasion, although consensus-making can often be rapid in Japan.
It reflects a similar approach in Britain, where an unofficial quota was set in 2011 to have 25 percent of the 100 top corporate boards be women by 2015.
Japan's voluntary target is also quite a shift for Mr. Abe and his party, whose leaders once blamed the nation's low birthrate on the government having allowed women to attend college. Now, as Japan struggles for new ways to revive a dormant economy, it sees an economic benefit in encouraging women's career ambitions.
---