Glint of a Mideast peace as Turkey-Kurd pact plays out
A peace deal to end a long, violent Middle East conflict between Turkey and its minority Kurds began Wednesday when PKK rebels began a retreat into Iraq under a cease-fire. Now Turkey must deliver its part of the bargain. Both sides recognize a new reality in the region.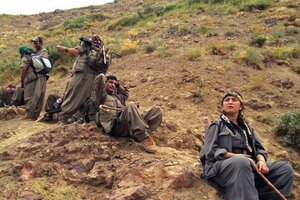 Firat News Agency/AP Photo
Small triumphs for peace in the Middle East are always worth noting, especially ones driven by idealism. On Wednesday a 39-year violent conflict between Turkey and its minority Kurds saw a welcome turn of events. About 2,000 Kurdish guerrillas began a withdrawal from Turkey as the first step in implementing a historic peace agreement.
The pact still has a difficult path ahead but both the rebels, or PKK (Kurdistan Workers Party), and Turkey's prime minister, Recep Tayyip Erdogan, have strong incentives to keep the peace process on track.
The PKK sees the Arab Spring as having created a regional acceptance for freedom and rights, including for non-Arab peoples like Turkey's 14 million Kurds. And a more-secure Turkey seeks higher standards for itself on human rights to enable it to be a global leader and perhaps join the European Union.
The pact was struck in recent months between Hakan Fidan, Turkey's spy chief, and Abdullah Ocalan, the PKK founder who has been in an island prison since 1999. Its exact details remain secret, but the PKK has declared a cease-fire. It has dropped demands for a separate Kurdish homeland and appears willing to accept autonomy within Turkey.
---