IRS scandal as a lesson in civic values
The IRS targeting of conservative political groups may not have been political itself. But it shows a serious need for more civics education in America about basic freedoms like the First Amendment.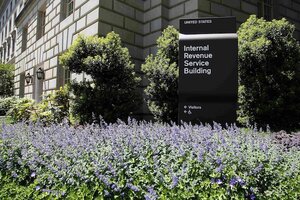 Reuters
Congress has much to investigate with the news that the Internal Revenue Service targeted certain tax-exempt groups for selective enforcement if their names included words like "tea party" or "patriot." This IRS action represents an abuse of the agency's policing powers against particular political causes. And it may have had a chilling effect on political expression.
Still, the motives aren't clear. Lawmakers need to find out if IRS employees acted out of partisan interests or were simply careless in coming up with criteria to sort through a wave of conservative groups claiming tax-exempt status as a 501(c)(4) organization under the tax code. (Such groups must operate "exclusively for the promotion of social welfare" and cannot be "primarily political" – a difficult term to define.)
Even assuming for now that the IRS employees are innocent of partisan intent toward conservative groups, what can be said of their understanding of the Constitution? Are they, like too many Americans, not well schooled in the rights that bind the country together under such bedrock ideas as due process and freedom of speech?
A basic knowledge of civics is essential for every citizen but especially for those who enforce the law. As Secretary of Education Arne Duncan says, civics consciousness is "central to our identity as Americans." Congress should use this IRS scandal to beef up civics education for federal workers as well as for public school students. Lesson No. 1: Government cannot restrict or discriminate against political causes that it disagrees with.
One irony is that the IRS went after groups that "sought to educate Americans about the US Constitution," according to The Washington Post. If anything, such groups should be welcome. Here are a few reasons why:
A 2011 study found 97.5 percent of naturalized citizens pass the basic test for citizenship while only about two-thirds of Americans can do so. Other polls found only one-third of Americans can name all three branches of government while two-thirds can't name a single Supreme Court justice.
---