Americans see religion in decline yet want more of it. What's up with that?
A Gallup poll shows people see less religious influence today, but they also say America would be better with more religion. Such attitudes reflect the social times more than personal faith. They also point to religion's endurance.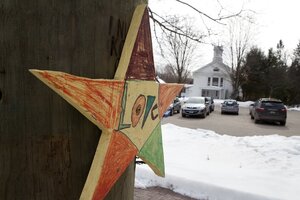 Photo by Melanie Stetson Freeman/The Christian Science Monitor
In many professional fields, from neuroscience to evolutionary biology, it's popular today to build entire careers on the study of religion. Where does faith come from? What does it achieve? Why is it so prevalent? And so on.
Perhaps the most extended research, however, comes from the Gallup poll. Since 1957, Gallup has asked Americans this simple question: Is religion increasing its influence? The poll is not a measure of religious or spiritual beliefs but rather a perception of religion's role in society. The latest poll, released Wednesday, shows the most negative public opinion toward the impact of religion since 1970.
The last time a majority of Americans saw religion as increasing in influence was just after the 9/11 attacks. Today, in sharp contrast, 77 percent believe it is losing influence. That's about the same percentage as during the late 1960s.
"In 1969 and 1970, with the Vietnam War raging in controversial fashion and with the cultural and sexual revolutions underway, and to a lesser degree at times in the 1990s, Americans held negative views similar to those they hold today," wrote Gallup editor in chief Frank Newport in an analysis of the poll. "The degree to which these views changed during the Reagan years, and after 9/11, suggest that they could change again in the years ahead."
---