Brazil protests in a global trend
The Brazil protests follow those in Turkey and India, all three developing countries with established democracies. While the sparks for the protests differ, the theme is the same: Fix democracy; don't replace it.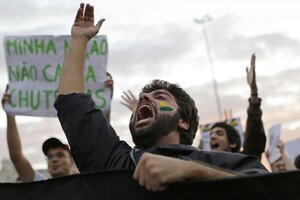 AP Photo
In recent days, Brazil has joined Turkey and India on a now-familiar path:
A large developing country – one that is already democratic – suddenly erupts in surprising mass protests. Social media help draw crowds quickly. They are mainly young, middle class, and peaceful. The protests focus on different issues – corruption, rising prices, sexual violence, or erosion of liberties. But the constant is this: People want to fix a broken democracy, not replace it.
That's quite good news. In past decades, protests in poor countries might have led to something else. In Iran of 1979, they led to Islamic theocracy. In Serbia of 1992, they led to extreme ethnic nationalism and wars on neighboring countries. In too many places, protests led to military takeovers.
Fortunately, the recent protests in Brazil, India, and Turkey aren't about the "isms" of the 20th century, such as communism and fascism. The world's peoples have struggled hard to make democracy the global norm (except in places like China, Russia, and Arab monarchies).
In the recent democracies of Egypt, Tunisia, and Libya, Islamists are mostly on the defensive against popular sentiment in favor of individual liberties and governments with checks and balances on power. The Arab Spring clearly set down those markers for the future of the Middle East.
---