Supreme Court ruling hardly ends the issue in Voting Rights Act
In the Supreme Court ruling on the Voting Rights Act, the nine justices were at odds over an issue that still divides America: How to deal with old fears of any new types of racism.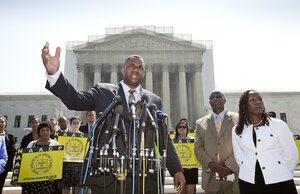 AP Photo
In a ruling Tuesday, the US Supreme Court threw out a key provision of the Voting Rights Act, reopening a debate over how much discrimination exists among certain elected officials in possibly denying minorities access to the polling booth.
The ruling strikes down the act's selective treatment of 15 states or counties – mainly in the South – that had been found guilty of past discrimination against black voters. Since 1965, these jurisdictions have had to seek federal approval for any proposed changes to their local voting procedures. The high court found little or no evidence of current guilt to justify this continuing treatment, especially compared with states not covered by the law.
The Constitution, the court stated, requires that states be treated with equality in their sovereignty over voting matters unless they violate basic federal rights. The court left intact the act's ability to correct cases of such discrimination in the future.
In essence, the five conservative justices in the majority asserted a presumption of innocence while the dissenting four justices warned that the act's provision is still needed as a deterrent against a recurrence of new types of racism in voting policies.
In the court's ruling, Chief Justice John Roberts argued that the provision relies "on decades-old data relevant to decades-old problems, rather than current data reflecting current needs." In the dissenting view, Justice Ruth Bader Ginsburg countered that "the prospect of retrogression" is real, citing "second-generation barriers" to the ballot box for blacks.
"Throwing out [the provision for federal approval] when it has worked and is continuing to work to stop discriminatory changes is like throwing out your umbrella in a rainstorm because you are not getting wet," she wrote.
---