A knot untied in Supreme Court ruling on same-sex marriage
The Supreme Court ruling on same-sex marriage rightly pushes the issue back to the states, but also points to issues of liberty and sovereignty in how marriage is defined.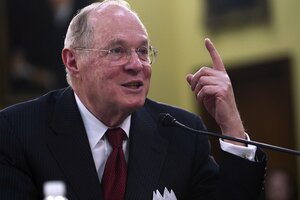 AP Photo
In two rulings Wednesday, the US Supreme Court pushed the issue of same-sex marriage back to the states – where it has long belonged – without taking sides on it as a moral issue. That was a wise legal choice. It may help avoid further government entanglement in the way individuals enter marriage for reasons that have long predated government and are still often rooted in religious motivations.
The high court did, however, come down strongly against Congress opposing same-sex marriage. It struck down the Defense of Marriage Act, or DOMA, while not even deciding a case involving California's Proposition 8, which overturned a state court ruling.
In the DOMA decision, the majority's five justices said the 1996 law was discriminatory against a particular class of persons, both in its intent and its effects in denying access to federal benefits. They cited constitutional requirements for equality before the law.
But the court left it to the states to continue in their traditional role of defining lawful marriage – even if Congress cannot – just as churches and other religious institutions have the freedom to decide the spiritual and moral contours of marriage.
---