Why Egypt now deserves world's help
Helping Egypt fix its economy is now as important for the West as helping it fix its democracy. The protests that led to the military ouster of President Mohamed Morsi were driven as much by economic suffering as political anger for his undemocratic ways.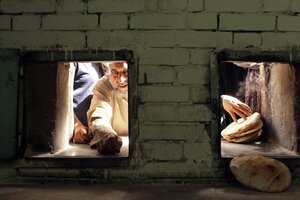 Reuters
One gauge of the West's compassion as well as its strategic interests is how easily a poor country can get a loan from the International Monetary Fund. On Thursday, for example, the West-dominated IMF gave Pakistan an initial green light for a $5.3 billion bailout. Two-thirds of Pakistan's 180 million people live in poverty. The country is beset by terrorists and critical to Afghanistan's future. It is, in short, a country too important to fail.
Is Egypt now also deserving of such foreign assistance?
Without quick aid, the Egyptian economy could implode, creating yet another political upheaval like that the world witnessed in the mass protests leading up to the July 3 military overthrow of President Mohamed Morsi.
As much as many Egyptians disliked Mr. Morsi's antidemocratic behavior, they also sought his ouster because of a worsening economy as well as his focus on seeking political gain more than economic reform. Half of the country's 80 million people are either living below the poverty line or near it. The ouster was a revolution of the hungry.
The numbers now argue for foreign help. While the Muslim Brotherhood was in charge, more than 1 million Egyptians lost jobs. Inflation shot up from 3 percent to more than 13 percent. An amazing 78 percent of workers have only temporary work. In May, a Pew poll of Egyptians said living in a good economy was more important to them than living in a good democracy.
---