After two political revolutions, Egypt needs a cultural revolution
Egypt's political identity won't be resolved by politics or protests alone. An upwelling of culture since 2011 could help resolve the nation's many identity conflicts.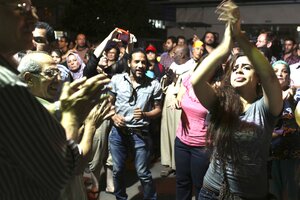 Reuters
Egypt's second revolution in less than three years has it once again struggling to define a national identity. On the surface, this means writing a new constitution, holding more elections, and perhaps experiencing more protests.
Below the surface, however, another identity-forming revolution is afoot.
Basma el-Husseiny, a leading activist for the arts, claims Egypt has seen an explosion of cultural activities since 2011. The overthrow of dictator Hosni Mubarak lifted many restrictions on the freedom of expression, leading to a flowering of interest in music, dance, poetry, and especially humor.
Her group, Culture Resource (Al-Mawred Al-Thaqafy), is a rare nongovernmental cultural organization in an Arab nation, one that uses art in local communities to resolve crises. It has, for example, put up billboards in Cairo that proclaim "It's My Right to Dance" and "It's My Right to Sing."
Culture often has a uniting effect in identity conflicts. Unlike in matters of governance, security, or economy, culture is usually in the hands of the people. They are either creators or audience. That is why authoritarian regimes, whether secular or Islamist, are often eager to suppress or control culture.
Since 2011, Egypt has had no less than six ministers of culture. The last one under President Mohamed Morsi tried to redirect Egyptian culture by firing the heads of the Cairo Opera House, the Egyptian General Book Authority, the Fine Arts Sector, and the National Library and Archives. His action in May led to a sit-in protest by leading performers, artists, and intellectuals. And then in June, supporters of the Muslim Brotherhood attacked the protesters.
---