What Senate filibuster deal tells young democracies like Egypt's
The Senate filibuster deal avoids the severe political backlash of the 'nuclear option' – for now. It recognizes the filibuster's historic role in protecting minority interests, a lesson for newly democratic countries like Egypt.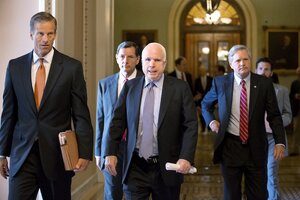 AP Photo
Note to Egypt and other new democracies: Despite being one of the world's oldest democratic republics, the United States still has trouble balancing the interests of the majority and the minority after an election.
Just look at Tuesday's informal agreement in the US Senate about the legislative blocking action known as the filibuster. The compromise will avoid a drastic rule change on the filibuster by the Democratic majority, at least for now. Republican senators had been threatening to filibuster several of President Obama's nominations for key cabinet and other positions. In response, majority leader Harry Reid had threatened to use the "nuclear option" – making a change to Senate filibuster rules by a simple majority vote that would lower the threshold required to approve executive nominations from 61 to 51 votes. In the end, the two sides hashed out an agreement that lets five of Mr. Obama's nominees to federal agencies face an up-or-down vote (no filibuster), while pushing him to withdraw two other nominations.
Fortunately, no military was needed in the streets to push the Senate to compromise on a tactic long employed by minority parties to require a supermajority vote on many bills or appointments. Instead, it will help keep the current minority (Republicans) and any future minority (probably Democrats) from deciding there is little hope in participating in the current form of democracy. Egypt's second revolution, on July 3, is a prime example of a large minority – by the millions in street protests – so fearing for its political voice that it invites a coup.
---