Why Holder's probe of 'stand your ground' laws stands out
US Attorney General Eric Holder said after the George Zimmerman verdict that Justice will take a 'hard look' at the many 'stand your ground' state laws, such as Florida's. Such laws need challenging as they reverse history's path away from killing.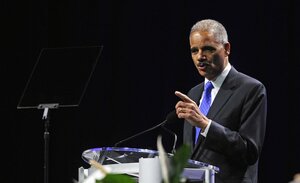 Reuters
It didn't take long. Three days after a jury found George Zimmerman not guilty in the murder of Trayvon Martin, the Justice Department said it will take a "hard look" at a new type of self-defense law known as "stand your ground."
Florida and nearly two dozen other states have passed such laws since 2005 in a campaign led by the National Rifle Association. The laws get rid of an old legal doctrine that anyone confronted by a dangerous person has a "duty to retreat" rather than shoot. And the laws provide greater legal leniency toward killers who claim they acted out of fear of harm or death.
That's one reason Florida officials hesitated in arresting Mr. Zimmerman. He wasn't charged for 44 days after the shooting. And even though his legal defense relied on a traditional self-defense argument rather than Florida's Stand Your Ground law, the judge's instructions to the jury specifically mentioned the law's provision.
While it is doubtful a Justice Department probe can make a legal challenge against the state laws, the federal scrutiny is needed. Homicide rates have risen 7 to 9 percent in states with stand-your-ground laws compared with other states, according to a 2012 Texas A&M study. And findings by Georgia State University "raise serious doubts against the argument that Stand Your Ground laws make [the] public safer."
The laws "senselessly expand the concept of self-defense," Attorney General Eric Holder said Tuesday. They "try to fix something that was never broken" and have "victimized too many who are innocent."
---