Japan's election rings beyond its shores
Sunday's election results in Japan give Prime Minister Shinzo Abe a big political boost to push more economic reforms that may help Japan become an engine for global growth. The world needs a healthier Japan.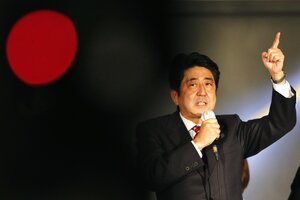 Reuters
The world's economy is expanding too slowly to quickly lift more people out of poverty. It needs at least one big country to make difficult reforms and become a strong engine for global growth. Of the four largest economies (Europe, United States, China, Japan), the US has recently boosted its growth rate the most. But after an election on Sunday, Japan could soon join the US as a potential engine.
The election result in Japan gives an important boost to Prime Minister Shinzo Abe and his efforts to get Japan's $5.9 trillion economy out of a two-decade-long slump. His ruling Liberal Democratic Party and a coalition partner now control the Upper House, giving him solid majorities in the parliament.
Unless entrenched interests again are able to defeat reform efforts, Japan may well see these badly needed changes: rising consumer demand, a better environment for entrepreneurs, and a more open economy.
Loosening the grip of tradition isn't easy for Japan. Many of its workers have enjoyed lifetime job security. Its powerful rice farmers and mom-and-pop stores are too protected from competition. Big companies enjoy privileges that start-up firms do not. Well known for its quality of cars, Japan sometimes drives its economy by clinging to the rearview mirror rather than the steering wheel.
---