How 'play ball' can also mean 'play fair'
After Major League Baseball suspended Brewers' star outfielder Ryan Braun for violating drug rules, other MLB players and the players union reacted with surprising support for restoring integrity to pro ball. That's a welcome shift for honest sport.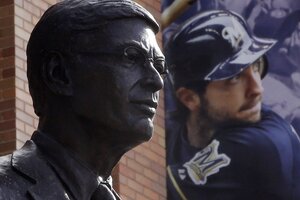 AP Photo
On Monday, Major League Baseball suspended a famous player, Ryan Braun of the Milwaukee Brewers, for violating its drug rules. On the face of it, this could be seen as yet another sports star nailed after a probe of possible use of performance-enhancing drugs. But like the game of baseball itself, Mr. Braun's error led to a surprising result.
The players union, rather than cry foul or criticize the process as it has done in the past, welcomed his punishment. More important, many in professional baseball spoke out about the need for players to rely on their natural abilities to ensure a level playing field for honest competition.
"I'm tired of the steroids," New York Yankees manager Joe Girardi said after the Braun announcement. "Just do things the right way, bottom line."
"I think everybody's frustrated, especially the players," said Seattle Mariners pitcher Joe Saunders. "We all feel a little bit cheated."
"The good thing about this is we're cleaning [up] the game," said Yankees closer Mariano Rivera. "That's the way it should be."
After years of trying to rid baseball of steroids and similar drugs, MLB may finally be rounding third base. The breakthrough started with an MLB investigation of the now-defunct Biogenesis clinic in Florida, which is accused of supplying drugs to a number of players. Yet it is the reaction to the Braun case that suggests a culture shift is already under way among players to maintain each person's integrity in honoring fairness in the sport.
---