Step up solutions for Syrian war's symptoms: refugees
As the rate of Syrians fleeing the war rises, so must the global response. The war's causes may not yet be solvable – killings now top 100,000. But its symptoms can be.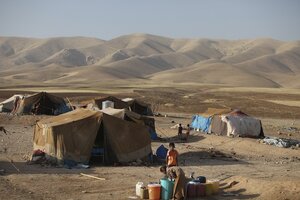 Reuters
Americans and their allies are reluctant to directly confront the root cause of Syria's civil war – the ruthless regime of Bashar al-Assad. But they can do more for the symptoms spilling across the Syrian border.
More than a third of the country's 22.5 million people have now fled their homes since the conflict began in 2011. A comparable crisis in the United States would see 100 million people uprooted, many heading into Canada and Mexico.
As the number of people killed in Syria has topped 100,000 and the fighting has intensified, the exodus of people has only quickened – 7,000 new departures every day – reaching a global rate only last seen during the 1994 Rwandan genocide.
The most heartbreaking figure is that half of the nearly 2 million refugees now living in Turkey, Jordan, Iraq, and Lebanon are children. Such numbers have led the United Nations to launch its largest appeal ever for humanitarian aid – $5 billion.
The US has already provided nearly $1 billion in assistance, and Congress seems supportive of more. But Secretary of State John Kerry admitted to UN aid agencies this week that the US is having problems: "We are having a very difficult time being able to access people, move people correctly, and protect people."
---