Buds of hope for US-Iran nuclear talks
With a new, more moderate president, Iran trades signals with US over possible openings for nuclear talks. Each side needs to first build trust. The next two months will be critical to find peace paths.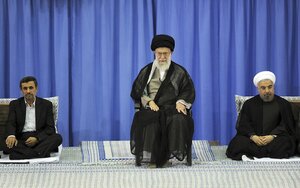 AP
An olive branch, as a symbol for peace, often serves its purpose simply as a bud. That may be the case in judging the subtle signals – or buds – that Iran and the Obama administration are sending each other about a renewed willingness for direct talks.
Without a peace deal, each country sees either a possible war or a nuclear arms race in the Middle East. So it's important to catch peace signals early.
The occasion for the latest diplomatic gestures was Sunday's inauguration of Hassan Rohani, a self-described moderate, as Iran's new president. The Scottish-educated Muslim cleric has selected Western-oriented and reformist members for his cabinet. Unlike his predecessor, Mahmoud Ahmadinejad, he speaks of "wisdom" rather than "radicalism" and of "constructive interaction with the world." And for the first time, the Islamic Republic welcomed other heads of state to a presidential swearing-in.
The White House, meanwhile, used the June 14 election of Mr. Rohani to ever so slightly ease up on sanctions against Iran, notably in medical supplies. Last week, it appeared lukewarm about a House bill, passed by a large majority, that aims to cut off all of Iran's crucial oil exports. And the Obama administration widened the door a bit for talks by saying the United States would be a "willing partner" if Iran engages "substantively and seriously to meet its international obligations" for its nuclear program.
---