Far more than Snowden led Obama to cancel Putin summit
An assertion of values more than interests are behind President Obama's cancellation of a September summit with President Vladimir Putin. The US simply doesn't see world diplomacy as Putin does.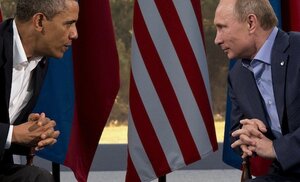 AP Photo
In domestic disputes with Republicans, President Obama mostly frames the debate as a clash of values. He tries to win contests of ideas. He'd be wise to stick to that higher-level framing in explaining why he canceled a summit with Russian President Vladimir Putin.
Mr. Putin often acts as if Russia is in a competition of geopolitical interests rather than values. When Edward Snowden sought asylum after stealing official American secrets, the Kremlin – which has few compunctions about domestic surveillance – treated the fugitive as merely a pawn in a global power play. In Syria, Putin sees little value in ending the mass slaughter if it means giving up a key naval port or Russian influence in the Middle East. Power almost always trumps principles. National interest comes before universal ideals.
Mr. Obama canceled the September summit for reasons other than the fact that Putin would not hand over Mr. Snowden for trial in the United States. On a host of values important to the US and indeed much of the world – nuclear nonproliferation, human rights in Russia, and adherence to free-trade pacts – the White House is so disappointed that it is "assessing the current state of our bilateral relationship."
---