Why listen to Obama's speech on Syria?
President Obama's speech on Tuesday about a strike on Syria deserves a good listen by Americans. He asked Congress for support and welcomes alternative views. Good leadership today requires listening all around.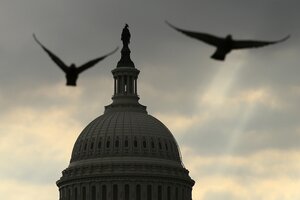 Reuters
In the oft-admired model of a decisive lone warrior, President Obama could have ordered strikes on Syria without asking Congress. Instead, the commander in chief chose to ask lawmakers. At the least, all Americans should now reciprocate. They could suspend judgment and listen to what Mr. Obama has to say in his Tuesday evening address to the nation.
In decisions of war, bravery is needed in knowing when to be humble – in listening for one's biases and evaluating new evidence. "Courage is what it takes to stand up and speak; courage is also what it takes to sit down and listen," said Winston Churchill.
Obama is hardly a warmonger, thus he deserves attention to his arguments for a "limited" attack on Syria's military. He has not told other nations "if you are not with us, you are against us." He is being a listener in chief even as he asks Americans to join him in pursuing the goal of curbing Syria's use of chemical weapons and reestablishing a global norm.
"I'm not itching for military action ... and if there are good ideas that are worth pursuing, then I'm going to be open to them," he told one reporter, in a statement that suggests he is the type of leader who is comfortable with his doubts.
---